At 9pm on Saturday 27th March 2010 at the Volksbuehne Roter Salon, Berlin, Momus presents the premiere of a theatre piece, "Exploding Beowulf".

Momus, joined on stage by David Woodard, takes his song "Beowulf (I Am Deformed)" from the 2003 album "Oskar Tennis Champion" (Analog Baroque) and deconstructs it in twenty scenes. The song describes how Denmark is rid of the monster Grendel by a deformed and disabled hero. In the theatre piece, this relatively linear plot is transformed into a PowerPoint consultancy pitch, dry choreography, a chat show appearance, an archeological dig, a medical slideshow of wounds sustained, and so on. It's hoped that this semi-improvised thematic explosion theatre technique will be applied in future to other cultural objects. If you're a curator, festival director, or just someone who'd like something semantically exploded, contact the Exploding Theatre Company.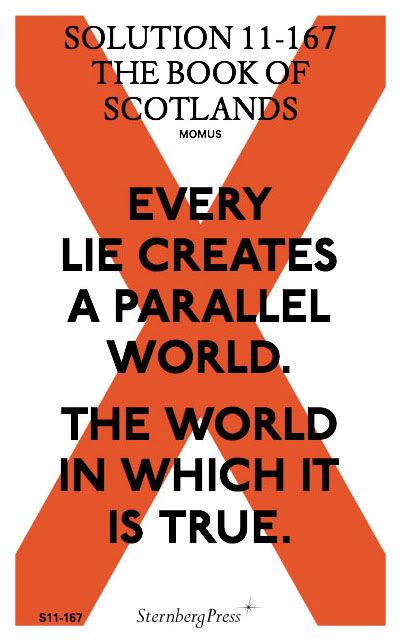 Published by Sternberg Press in late 2009, The Book of Scotlands is a series of delirious speculations about the future of Momus' motherland. Commissioned by German editor Ingo Niermann and modelled on his book Umbauland, The Book of Scotlands was well-received in Scotland.
"I don't think I am over-stating it," wrote Gerry Hassan, "to say that The Book of Scotlands will be read and reread, studied and assessed centuries from now for what it says about early 21st century Scotland". And Pat Kane in the Scottish Review of Books said: "The Book of Scotlands is a considerate, deeply generous take on the life of this country and its possible futures."
The Book of Scotlands can be ordered online via Sternberg's website (click "order") or via Amazon.de, who will deliver worldwide.
The Book of Jokes is Momus' first novel. Commissioned originally by french publisher La Volte, it was published first in English in September 2009, followed in October by the french edition Le Livre des Blagues, and will appear in German in the autumn of 2010 through Blumenbar.
"Most of the book's story lines orbit around taboos, including scatology, pedophilia, bestiality and talking, chess-playing penises," said the Los Angeles Times. "One of the book's central conflicts poses the question of whether two men can be each others' uncles, which can be answered only with some of the most lurid, labyrinthine incest in literature."
"The Book of Jokes is not a collection of punchlines or tension-building schemes," wrote Adam Novy in Dossier Journal, "it's a flexible and sensitive solution to the problem of how to invigorate conventions like the novel using overlooked materials. Momus is a slyly articulate stylist with a lovely flair for syntax and the lexical."
The Book of Jokes can be ordered in English via Amazon, and in French via FNAC.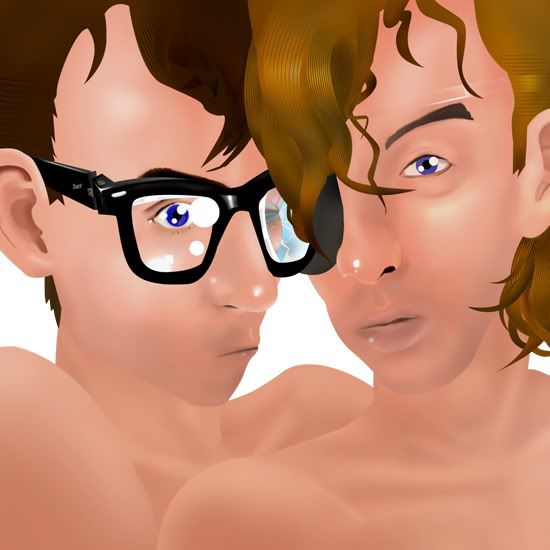 The most recent album from Momus is Joemus, released in November 2008.
Culturedeluxe called it "the best album from Momus in years, a brilliant, hallucinatory Nintendo arcade gloop of analogue pop and retro lounge as performed by two Space Invaders posing as human beings". "A great precis of where Momus's current musical fascinations lie", wrote Prefix magazine.
A collaboration with Berlin-based Scot Joe Howe, Joemus is available in the UK and Europe from Cherry Red and in the US from Darla. Other Momus releases are listed on this page. Six albums Momus released on the Creation label are available as free downloads from ubu.com.
Blackpool desurgency
Larry Cassidy, leader of the Factory Records group from Blackpool, Section 25, has died.
I heard Section 25's first single, Girls Don't Count, on John Peel's show in 1980. "Exactly the sort of thing that's taking a bit of a royal beating in the reviews pages just now," Peel commented when the dirge ended, "but I still care for it."
The nihilism -- the sheer thrawn glumness -- in that debut record was shocking. Girls, money, none of it counts. What does count, then? The stubborn, driving, boomy, doomy, flanged bassline, obviously. The bitter triplet drum roll ("tak tak tak!"). The don't-care coolness of Factory Records. The producer, Ian Curtis. And the arrogant, effortless elegance of Peter Saville's bold yellow typographic solution for Section 25's debut album. Possibly the best record sleeve ever (you have to open it up, see the bookend marbling inside, and twig the idea -- an introvert's logic -- that a minimal-conceptual fuck-off outer shell could conceal a sensual "superior interior").
I saw Section 25 live. They played at the Aberdeen Capitol and mostly stood with their backs to the audience. This also seemed important and cool at the time. Don't entertain, don't smile. Entertainment and smiling is flaky, fake.
I was very interested in the scientific analysis of personality at the time, because I was trying to understand myself. And girls, and money, and the things that "didn't count". People who thought "none of it counts" could be explained by the scientific analysis of personality too.
So I turned to Raymond B. Cattell's book The Scientific Analysis of Personality and discovered that the thing Peel said was "taking a bit of a royal beating in the reviews pages" -- this fashionable / unfashionable thing, known at the time as "Miserabilism" -- was referred to by scientists as "desurgency".
If you were desurgent, said Cattell, you were: depressed, pessimistic, seclusive, retiring, subdued, languid, dull, phlegmatic, taciturn, introspective, worrying, unable to relax, obsessional. If you were surgent you were: cheerful, joyous, sociable, responsive, energetic, humorous, witty, talkative, placid.
My band The Happy Family started off depressed and desurgent. At our first gigs supporting The Cure we had that "desurgent" sound. Our first NME live review said: "The Happy Family are a horde of invading cockroaches. Someone turn the light on!"
We turned the light on ourselves. Girls did count, money did count, all of it counted. We did a volte face, and became -- at least outwardly, and perhaps a bit tongue-in-cheek -- cheerful, joyous, sociable, responsive, energetic, humorous, witty, talkative. On 4AD, a label where it would probably have paid in spades to be very, very desurgent.
Now I'd be inclined to see Larry Cassidy's glum desurgency as something less to do with the fashions of the era, more tied into the despondency of a certain kind of low cloud-scudding northern English sensibility. If the traits of surgency sound like Blackpool during the high summer holiday season, the traits of desurgency are Blackpool for the rest of the year, Blackpool as its residents mostly experience it. The girls and the money have gone, and you're trying to persuade yourself that they never mattered in the first place. Desurgency is something the town does, and something the sea does as it crashes against it. Sunday February 28th 2010
There he is, mad as a brush...
What if artists had power in the real world? Does whatever power they do have come, precisely, from their status as powerless and marginal dreamers? Or could artists infiltrate industry and push society in a new and better direction?
That was the question in the mind of John Latham and others when they formed the Artist Placement Group in the late 1960s.
I spent three days in the East Midlands this week, seeing possible sites in Loughborough, Derby, Leicester and Nottingham for the Aftergold Japanese art show I'm curating, which will open in 2012. In the Quad Gallery in Derby I saw a memorial show to local artist Ian Breakwell, who worked with the APG for a time.
It was one of those shows you take in quickly, but find resonating in your mind long afterwards. Skimming the gallery with curator Nick Slater, what I mainly took in was that Breakwell was a local Derby artist who'd died of cancer in 2005. Next, there was something his work had in common with British artists like Tom Phillips and Stephen Willats. He used stencil lettering and diaries and video. The piece I spent longest with was a harrowing final audio and slide diary of Breakwell's cancer treatment.
Breakwell was known mostly for his diaries. There's an extensive archive of them on the Anthony Reynolds gallery website. Like me, Breakwell lived for a few years near Smithfield Meat Market in London, where he made a diary of observations of an old homeless man. You can hear the audio collage about The Walking Man ("There he goes again! Mad as a brush!") here. There's also an Alan Yentob documentary I'd be interested to see, and ubu.com has a Breakwell audio piece called The Holiday Cottage here.

Artist Placement Group got Breakwell placed with British Rail and the Department of Health. The diary he made while staying in a mental hospital is still under wraps, stymied and schtummed by the Official Secrets Act. Artists can say whatever they want... as long as it doesn't change anything. Saturday February 27th 2010