At 9pm on Saturday 27th March 2010 at the Volksbuehne Roter Salon, Berlin, Momus presents the premiere of a theatre piece, "Exploding Beowulf".

Momus, joined on stage by David Woodard, takes his song "Beowulf (I Am Deformed)" from the 2003 album "Oskar Tennis Champion" (Analog Baroque) and deconstructs it in twenty scenes. The song describes how Denmark is rid of the monster Grendel by a deformed and disabled hero. In the theatre piece, this relatively linear plot is transformed into a PowerPoint consultancy pitch, dry choreography, a chat show appearance, an archeological dig, a medical slideshow of wounds sustained, and so on. It's hoped that this semi-improvised thematic explosion theatre technique will be applied in future to other cultural objects. If you're a curator, festival director, or just someone who'd like something semantically exploded, contact the Exploding Theatre Company.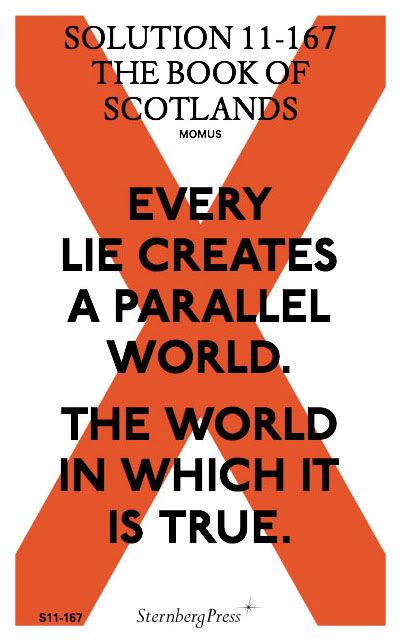 Published by Sternberg Press in late 2009, The Book of Scotlands is a series of delirious speculations about the future of Momus' motherland. Commissioned by German editor Ingo Niermann and modelled on his book Umbauland, The Book of Scotlands was well-received in Scotland.
"I don't think I am over-stating it," wrote Gerry Hassan, "to say that The Book of Scotlands will be read and reread, studied and assessed centuries from now for what it says about early 21st century Scotland". And Pat Kane in the Scottish Review of Books said: "The Book of Scotlands is a considerate, deeply generous take on the life of this country and its possible futures."
The Book of Scotlands can be ordered online via Sternberg's website (click "order") or via Amazon.de, who will deliver worldwide, or Amazon UK.
The Book of Jokes is Momus' first novel. Commissioned originally by french publisher La Volte, it was published first in English in September 2009, followed in October by the french edition Le Livre des Blagues, and will appear in German in the autumn of 2010 through Blumenbar.
"Most of the book's story lines orbit around taboos, including scatology, pedophilia, bestiality and talking, chess-playing penises," said the Los Angeles Times. "One of the book's central conflicts poses the question of whether two men can be each others' uncles, which can be answered only with some of the most lurid, labyrinthine incest in literature."
"The Book of Jokes is not a collection of punchlines or tension-building schemes," wrote Adam Novy in Dossier Journal, "it's a flexible and sensitive solution to the problem of how to invigorate conventions like the novel using overlooked materials. Momus is a slyly articulate stylist with a lovely flair for syntax and the lexical."
The Book of Jokes can be ordered in English via Amazon, and in French via FNAC.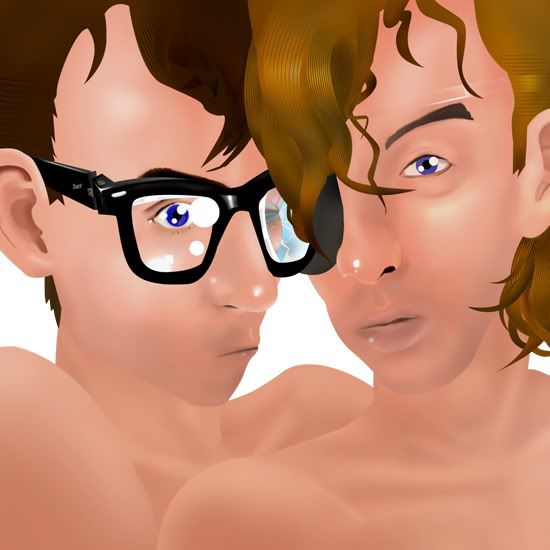 The most recent album from Momus is Joemus, released in November 2008.
Culturedeluxe called it "the best album from Momus in years, a brilliant, hallucinatory Nintendo arcade gloop of analogue pop and retro lounge as performed by two Space Invaders posing as human beings". "A great precis of where Momus's current musical fascinations lie", wrote Prefix magazine.
A collaboration with Berlin-based Scot Joe Howe, Joemus is available in the UK and Europe from Cherry Red and in the US from Darla. Other Momus releases are listed on this page. Six albums Momus released on the Creation label are available as free downloads from ubu.com.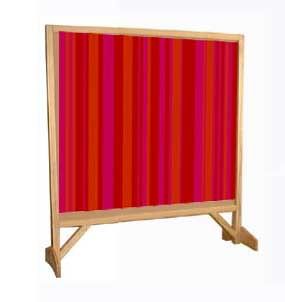 Pretty much from its inception, Momus has used the web to communicate. From 1995 to 2003 the Momus website entertained visitors with frequently-updated content: monthly essays, daily photos, accounts of Momus albums, some portraits of Momus, collections of podcasts, a CV, audio clips and tour diaries. Then, from January 2004 until February 2010, a LiveJournal blog called Click Opera took over, adding Web 2.0 functionality and a lively comments section.
In February 2010, for a series of reasons outlined here and here and in this radio interview, Momus completed the Click Opera project and came back to iMomus.com, bringing a touch of blog influence back to the old Web 1.0 site in the form of a new yellow notebook column called Zuihitsu.
Meanwhile, news and status tweets -- for those who like that sort of thing -- from Momusworld can be found at wolon, the Twitter feed of Momus' faithful personal digital assistant, Maria Wolonski.
An idiot's guide to the future of Japan
As the Spike Japan blog puts it, rather amusingly, "almost every conceivable travel book about Japan has already been written... The country has been walked, hitched, and written across from north to south and from west to east... it's a vanishingly small world."
Today (and no, it isn't April 1st) I'm happy to announce that I'm about to enter this crowded field with my own book about Japan. I've promised Sternberg, publisher of The Book of Scotlands, that I'll deliver the finished manuscript by October 1st this year, for publication in early 2011.
My book, "Far-flung Japan" (seen here with a mock-up cover; Zak Kyes will do the real one) probably won't much resemble the "meditations on time spent in Zen monasteries, confessionals of nightclub hostesses, thinly fictionalized exposes of the zany world of English conversation classes, travel tomes about Japan's seas, its slums, and even, seemingly, its socks" derided by Spike Japan.
My story is simple, and odd. Twelve idiots -- possibly conspirators, possibly visionaries, possibly liars, or possibly the most privileged and valuable future-witnesses the world has ever seen -- have found a way to the future of Japan. It's a messy business, involving crawling into a calving cow, and, after the initial twelve idiotic visits, nobody has been able to reproduce the feat. A commission of enquiry is established, and the idiots duly give accounts of their voyages to a panel of Japan experts who try -- not without exasperation -- to match the extraordinarily idiotic things they're hearing with known facts, likely scenarios and extrapolated outcomes.
The book will be funny but also serious. Amongst other things, it'll make a case for the rehabilitation of the idea of the "far". We live in a time when difference and distance have been eroded and eradicated by globalisation, the internet and cheap jet travel. "Far-flung Japan" will try to restore a sense of wonder -- along with a plethora of imagination-triggering inaccuracies, clouds of interference and globs of barn ectoplasm -- by taking the reader on a trip not just through space but time.
The book will be a nippophile version of Lucian's "Icaromenippus" melded with "The Time Machine" by H.G.Wells, the writings of genteel 19th century orientalist scholars, Japan's own nihonjinron authors, and the outlandish travellers' tales of the 16th century -- a time when travel accounts were populated by strange sea monsters and idiosyncratic customs heightened not just by ignorance, and not just to titillate credulous readers, but by a sense of the almost extra-terrestrial difference of the places involved. This difference -- made possible by the farness of "far" -- really existed in the past, but may also (we tend to ignore this possibility) exist in a post-monocultural future.
I hope to make that "vanishingly small world" a bit bigger, stranger, and farther away. Wednesday March 24th 2010
Energy is eternal delight
The concerts in France this weekend got some funny reactions.
I get funny reactions wherever I go, of course, because of the eye patch. This time, as well as the usual "pirate" calls, people shouted out on the street "It's an extraterrestrial!" ("That just means anyone from outside Poitiers," quipped promoter Lauphi) and "Where's the carnival?"
At the Poitiers and Nantes gigs people were really keen to mosh down at the front. So unlike the restrained, cerebral Berlin audiences! A thoroughly disinhibited woman (the one snapped here by Georgina Starr writhing on the floor) started it in Poitiers; in Nantes it was a black boy of about 20, quickly joined by a rowdy rabble who shouted and clapped in time to the beats.
The dancing began as a kind of sarcasm, but soon became a pit of flailing joy. People copied my Highland Fling gestures and my Kahimi Karie mincing mimicry. Despite -- or because of? -- the fact that I was wearing a skirt, these tough multi-racial suburban kids really went crazy. I remembered an early draft of my song Shaftesbury Avenue, which went: "Saturday night is on my side". This weekend I really felt it was.
And while it was a thrill to see my novel, in french, on the shelves of the local FNAC culture superstore, it occurred to me that the working class Nantes kids in the moshpit aren't people I could hope to reach via books, and that the bodily energy and joy uniting us on Saturday night is still something I find super-valuable. Energy, as Blake said, really is eternal delight. Monday March 22nd 2010
A video rose
This song appeared in a very different version on the 2008 Momus album Joemus as "Dracula".
Saturday March 20th 2010
Scotland's biggest literary prize
I'm delighted to report that The Book of Scotlands is one of sixteen books shortlisted for the Scottish Arts Council's Scottish Mortgage Investment Trust Book Awards. My collection of delirious speculations about possible Scotlands is in the First Book category. The Scottish Arts Council released details of the shortlisted titles (four books in each of the four categories) to the press today. The winner of the £5000 prize for each category will be announced in early April, and the overall winner (who'll receive a further £25,000) in June.
Here's what James Kelman, last year's winner, had to say about the prize:
Thursday March 18th 2010
Ariel Pink on 4AD
I like this song a lot!
I'm quoted talking about another musical hero in Behind the Brel: The Story of a Musical Genius (Episode 1), presented on BBC Radio 2 by Marc Almond and available for six days on iPlayer. Wednesday March 17th 2010
Going co-operative
There's a very interesting article in The Guardian about the co-operative structure of the John Lewis and Waitrose stores in the UK. I happened to be in a charity shop in Edinburgh's Stockbridge district on Saturday when my eye was caught by this book on co-operativism by Paul Rowntree Clifford:
The thing that made me snap the cover (which I like a lot) rather than buy the book wasn't that it was written in 1977 or even that the author was an Anglican minister and that it was published by Christian press SPCK as a work of "Christian Sociology". Rather, it was finding a chapter all about "knowing the enemy" of co-operativism -- in this case, apparently, the Marxists. Tuesday March 16th 2010
A little video about Icelandic art
After recording this little video about Icelandic art last night I noticed that Bjarni Thorarinsson's Question I-IX is actually a question mark joining the land to the sea. Although it still looks like Smithson's Spiral Jetty, the fact that it's basically "punctuation in landscape" does, I think, make it sufficiently different to be a perfectly useful artwork in its own right. So I suppose the moral of the tale is "Don't recognize too soon." Tuesday March 16th 2010
1964: my first publication
I've only recently got around to publishing books, but it's a little-known fact that I published my first short story in 1964. It wasn't exactly written; I spoke the story into a tape-recorder my father, a linguist, was holding. It concerns a dog, and a bell, a person who murders the bell, and a fire engine, and it was published (largely due to nepotism) in Discovering Language V, a textbook my father put together for Longman:
Forty-five years later I published some more stories, without having to pull any nepotistic strings. Here I am visiting William B. Currie, MA, at his home in the Scottish Borders, yesterday:

Earlier Zuihitsu scrawlings (zuihitsu means something like "random fragmentary brush-jottings" in Japanese) are here.