Momus is currently writing Far-Flung Japan, a book about Japan for Sternberg's Solution series.

The story is simple. Twelve idiots -- possibly conspirators, possibly visionaries, possibly liars, or possibly the most privileged and valuable future-witnesses the world has ever seen -- have found a way to the future of Japan. It's a messy business, involving crawling into a calving cow, and, after the initial twelve idiotic visits, nobody has been able to reproduce the feat. A commission of enquiry is established, and the idiots duly give accounts of their voyages to a panel of Japan experts who try -- not without exasperation -- to match the extraordinarily idiotic things they're hearing with known facts, likely scenarios and extrapolated outcomes.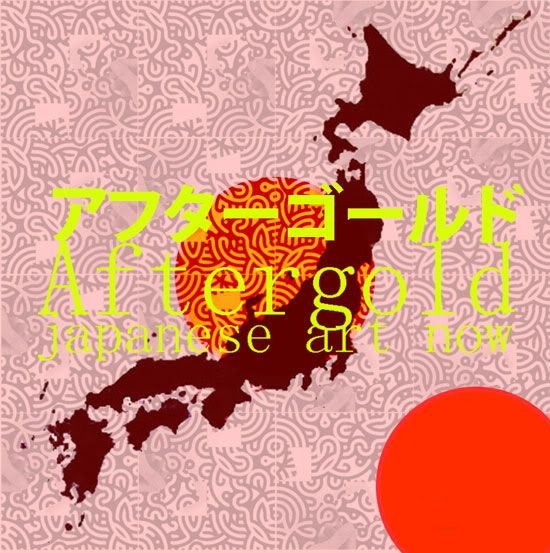 The book will be funny but also serious. Amongst other things, it'll make a case for the rehabilitation of the idea of the "far". We live in a time when difference and distance have been eroded and eradicated by globalisation, the internet and cheap jet travel. "Far-flung Japan" will try to restore a sense of wonder -- along with a plethora of imagination-triggering inaccuracies, clouds of interference and globs of barn ectoplasm -- by taking the reader on a trip not just through space but time.
Momus is also currently curating "Aftergold", a major exhibition of Japanese art to be held in the UK Midlands in the run-up to the 2012 Olympic Games.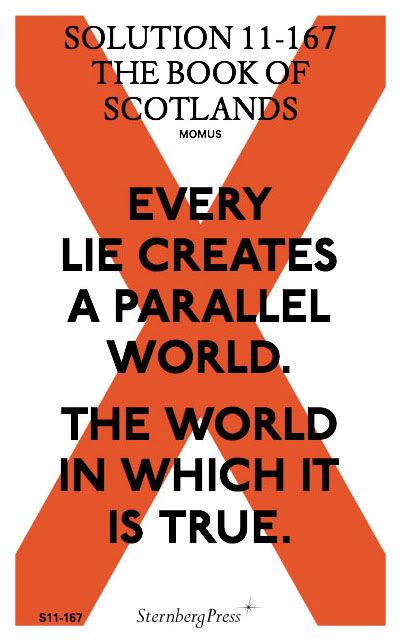 Published by Sternberg Press in late 2009, The Book of Scotlands is a series of delirious speculations about the future of Momus' motherland. Commissioned by German editor Ingo Niermann and modelled on his book Umbauland, The Book of Scotlands was well-received in Scotland.
"I don't think I am over-stating it," wrote Gerry Hassan, "to say that The Book of Scotlands will be read and reread, studied and assessed centuries from now for what it says about early 21st century Scotland". And Pat Kane in the Scottish Review of Books said: "The Book of Scotlands is a considerate, deeply generous take on the life of this country and its possible futures."
The Book of Scotlands can be ordered online via Sternberg's website (click "order") or via Amazon.de, or Amazon UK or Amazon US,
The Book of Scotlands was one of sixteen titles shortlisted for the Scottish Arts Council's SMIT Book Awards 2010.
The Book of Jokes is Momus' first novel. Commissioned originally by french publisher La Volte, it was published first in English in September 2009, followed in October by the french edition Le Livre des Blagues, and will appear in German in the autumn of 2010 through Blumenbar.
"Most of the book's story lines orbit around taboos, including scatology, pedophilia, bestiality and talking, chess-playing penises," said the Los Angeles Times. "One of the book's central conflicts poses the question of whether two men can be each others' uncles, which can be answered only with some of the most lurid, labyrinthine incest in literature."
"The Book of Jokes is not a collection of punchlines or tension-building schemes," wrote Adam Novy in Dossier Journal, "it's a flexible and sensitive solution to the problem of how to invigorate conventions like the novel using overlooked materials. Momus is a slyly articulate stylist with a lovely flair for syntax and the lexical."
The Book of Jokes can be ordered in English via Amazon, and in French via FNAC.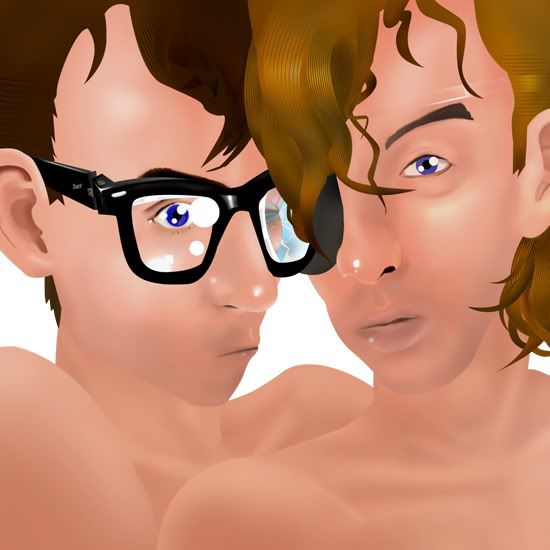 The most recent album from Momus is Joemus, released in November 2008.
Culturedeluxe called it "the best album from Momus in years, a brilliant, hallucinatory Nintendo arcade gloop of analogue pop and retro lounge as performed by two Space Invaders posing as human beings". "A great precis of where Momus's current musical fascinations lie", wrote Prefix magazine.
A collaboration with Berlin-based Scot Joe Howe, Joemus is available in the UK and Europe from Cherry Red and in the US from Darla. Other Momus releases are listed on this page. Six albums Momus released on the Creation label are available as free downloads from ubu.com.
Pretty much from its inception, Momus has used the web to communicate. From 1995 to 2003 the Momus website entertained visitors with frequently-updated content: monthly essays, daily photos, accounts of Momus albums, some portraits of Momus, collections of podcasts, a CV, audio clips and tour diaries. Then, from January 2004 until February 2010, a LiveJournal blog called Click Opera took over, adding Web 2.0 functionality and a lively comments section.
In February 2010, for a series of reasons outlined here and here and in this radio interview, Momus completed the Click Opera project and came back to iMomus.com, bringing a touch of blog influence back to the old Web 1.0 site in the form of a new yellow notebook column called Zuihitsu.
Meanwhile, news and status tweets -- for those who like that sort of thing -- from Momusworld can be found at wolon, the Twitter feed of Momus' faithful personal digital assistant, Maria Wolonski.
momasu@gmail.com





Web archeology: a little exhibition

Over the years, the Momus website has had an ever-changing sequence of front covers. They haven't all been preserved, but here are a few. You can click the images to get to the actual pages.



June 1995. The very first design I put online. Best viewed in Netscape 1.1, people, yeah?


A pleasing design from August 1995 featuring Shazna's wallet.



September 1995. The legendary Maoist Index.



From November 1995. A welcome page with a grid of linked photos.



December 1995. I wear horns stolen from Japanese prodigy Cornelius.



January 1996. "Momus is a mask that anyone can wear. This week, Shazna."



March 1996. The background image blinks! Blimey!



Mean and moody. From April 1996.



A schizoid Robert Louis Stevenson-like profile design from May 1996.



June 1996. Metallic lettering and an inverted grandfather clock. Odd.



July 1996. Two animated gifs, one of the top half of my face, one of the bottom. Odd temporary email address.



October 1996. Simple portrait on a black ground.



December 1996. Be a trendy, not a stinky: use frames.



Early 1997. Classic cliche of UK music journalism: our plucky little group conquers the New World.



It's June 1997 and I'm into Pong and releasing a record called Ping Pong With Hong Kong King Kong (A Sing Song)



April 1998. A slideshow in which the background of each page matches a colour in the image. Made after a trip with my then-girlfriend Riho to Amsterdam.



July 1998. Eye treatment, Japan trips to appear on Music Station, diaries of American tours.



Mid-1998. Meister Sad Pierrot v. Bodycon Explosions, it says here. I think this was about the time I was planning an EP called Sports Pierrot.



August 1998. Everything's Analog Baroque, even the Edinburgh Festival. Bach has a camcorder.



It's January 1999 and I'm selling portrait songs and dressing up as a "gorilla of letters".



February 1999, and I'm snapped at the opening of Tim Noble and Sue Webster's New Barbarians show at the Chisenhale Gallery.



Millennial! January 1st, 2000. I lead with a fan-made portrait of me, Toog and Kahimi onstage in America, but inside I'm raving about spending New Year 2000 with Gilbert and George.



Amidst 8-bit folktronic lettering and digital teepees I promote Zoop, a compilation of New York Electroclash bands that never actually materialises.



December 2001. A good vintage. Shuttling between London, Tokyo and New York, I'm writing about electroacoustics and telling you, in poetry, about my kitchen.



Spring 2003, I'm in Berlin (and London) meeting new people at White Trash, Fast Food, planning a laptop tour of Japan. War is in the offing.



Early 2003. Getting more esoteric and oblique, and showing the influence of fashion student Ayako, my partner at the time.




December 2003. A nice, mysterious design. A couple of months later, blogging would begin and the website would lie dormant for six years with this design:


Goodbye, Malcolm
I'm very shocked by the news that Malcolm McLaren has died. He's one of the most interesting, intelligent and likeable "celebrities" I've met, a massively influential and, I think, somewhat underrated man whose ideas on things like authenticity and provocation paralleled my own.
We met just three times in total, but I knew his longterm girlfriend Young Kim quite well. The first time I met Malcolm, in Paris in August 2002, it was to interview him for a 2000 word conversation commissioned by New York magazine Black Book. It could have been done in an hour or less, but -- after a slow start in which Malcolm seemed to be tired and trotting out well-rehearsed lines -- he began to loosen and warm up as we sat drinking red wine at a pavement cafe on the Place Saint Sulpice. We spent about ten hours together, ending up with Young Kim in a Left Bank restaurant where Malcolm reminisced about his first trips to Paris beat clubs in the late 50s and the experience of filming Who Killed Bambi with Russ Meyer.
In celebration of Malcolm's extraordinary life and his vivacious, ever-interesting mind I've made a special page containing the entirety of the extant recordings from our 2002 meeting here. It runs to over 16,000 words, but -- like McLaren himself -- never gets boring.
Goodbye, Malcolm. You have my love and respect. Friday April 9th 2010
Pull on your voting boots!
What could possibly be wrong with aspiration? What could be wrong with going for it and wanting better for you and your children?
Quite a lot, says Stefan Collini in an article entitled Blahspeak in the London Review of Books. The ideology of aspiration sucks because it doesn't question a hierarchical and unfair social organisation, but just claims to make it possible for anyone from any background to achieve the tiny number of top slots. This is the language of "empowerment" and "individual choice" that both the UK's main parties are using during the current election season, and what it leaves out is more important than what it includes. A concern for equality of opportunity (a strictly imaginary fairness which requires parallel worlds to work -- "I coulda bin a contender!") has displaced a concern for equality of outcome. Equality of opportunity is simply a legitimation system for inequality of result. Or, as Collini says: "The emphasis on 'aspiration' is one symptom of the abandonment of what have been, for the best part of a century, the goals of progressive politics, since, as an ideal, the 'aspirational society' expresses a corrosively individualist conception of life."
Above you see the results of a blindfold test I took at VoteForPolicies.org, a website which asks you to choose between the stated policies of the main UK political parties going into the May election without telling you which party is which. My support went entirely to the Greens, based on policies alone, with the exception of the Education section of the test, where I leaned to the Lib Dems. Not terribly surprising, really -- these were simply the most left-leaning choices available. But I won't be voting on May 6th; I left the increasingly right-swinging UK years ago.
Who says the UK is swinging right? Collini again, this time reviewing British Social Attitudes, the National Centre for Social Research's 26th report, which says that "in the past dozen years 'the public has taken a decisive turn to the right' and that 'the public, including Labour supporters themselves, no longer has as much belief in the importance of equality and of government action to secure it as it once did.'" For Collini, this is both the result of, and the underpinning for, politicians' emphasis on the nebulous idea that we only need to be free to aspire equally to the same limited social goods: "It is characteristic of the antinomies of individualism that the rhetorical stress on 'choice', 'respect' and so on has to be ramped up to compensate for the loss of any real prospect of altering the economic structure that shapes and sets limits to all agency."
On a day when I failed to become a finalist in a UK literary prize funded entirely by British aspiration (in the form of lottery money and a company providing mortgages for the "housing ladder"), I proposed two projects (a performance and a magazine article) to German-speaking cultural organisations in which I'll make a strong case for the future of communism. I also took the above photo at the Kreuzberg Centre, Kottbusser Tor. An artist has rented a workspace in the troubled but vital social housing development (left-leaning Kreuzberg has a younger population than any other urban area in Europe) and covered the desktop with library books about Palestine. Books with titles like The Return Journey and The Ethnic Cleansing of Palestine.
There's a perceptible shift of tone -- and, more importantly, of assumptions -- when, a few minutes later, I'm flicking through the new edition of Dazed and Confused, a UK style mag, at NGBK. Shanghai, I read, now has hundreds of millionaires. Their presence, the writer explains, is what guarantees that the city will soon be as important as London or New York. That's precisely the kind of attitude -- a politics "between the lines" which takes inequality not just for granted, but sees it as the condition of a town's "importance" -- which made me despair of modern Britain ever going my way.
Citing Gini stats in the Hills report, Collini describes how the gap between the most affluent 1% in Britain and everyone else is now giving "all the distribution charts and bar graphs... this absurd appearance, with a huge chimney at the right-hand side disappearing off the page. The report establishes incontrovertibly that, first, this has not always been the case, and second, it is not the case in other European countries."
In theory I may vote with the UK Greens, but in practice I long ago voted with my feet. But good luck with your "choice" next month, meine britischen Kameraden! Wednesday April 7th 2010
Blind Willy Momus sings "Taperecorder Man"
During the Easter holiday, veteran bluesman Blind Willy Momus dusted off an old number he wrote back in 2000, a tribute to folk collector Alan Lomax and the fateful fight he had with some "electronic fakes" at the Newport Folk Festival in 1965, the day Bob Dylan went electric.
Tuesday April 6th 2010
A wee ramble in the Scotlands
Well, we'll know on Wednesday how The Book of Scotlands has fared in the SMIT/SAC Book Awards. Meanwhile, here's a little reading (extracted from an audio mail I made for my father) of the first few chapters of the book, to give you the flavour.
The Book of Scotlands (opening) (mono mp3 file, 6.1MB, 13 mins 19 secs)
I'm delighted to report that the first one thousand, one hundred and eighty-six words of Far-Flung Japan have been written! If the hardest bit of writing really is staring at a blank sheet of paper, the worst is already behind me! That said, so far the book about Japan is entirely set in... Scotland.
Monday April 5th 2010
Pack o' fags and a bag o' mags
Sunday April 4th 2010
Fingleton's cave
Since the basic plot of my forthcoming book about Japan is that there are twelve idiots spouting lunacy about the country and twelve experts struggling to make sense of it -- with the result that of course it soon becomes unclear exactly who the real idiots are -- I'm currently researching Japanologists, Nippoclasts, future shockers, illuminating luminaries, tea leaf-readers and East Asia experts of all stripes. I'm
interested in them as much for the faint whiff of charlatanry they always bring in their wake as any sober acuity they may possess. People who "tell America about East Asia" and "tell the present about the future" are, to some extent, always going to be chancers, gamblers, Jeremiahs, even -- like our friend Taid O'Conroy, author of The Menace of Japan -- outright impostors. They may also be "productive liars", bringing interesting parallel worlds into existence. They may even be, on occasion, right.
Eamonn Fingleton, an Irish author and economic analyst living in Tokyo, came to my attention when I found him defending his countryman (and, in some ways, 1930s homologue) Taid O'Conroy in an online dispute. Fingleton seems to have been right in predicting the end of Japan's Showa Bubble, but wrong to predict in the 90s that Japan would overtake the US by the year 2000. He's now promoting a book about China and America which says that, longterm, "we're looking at East Asian leadership of the world community" and a consequent "dramatic reduction in the American standard of living".
As often happens, I agree with a lot of Fingleton's basic analysis without agreeing with his stated opinion that this is a "disastrous" state of affairs. Here's a (long) video in which he lays out some interesting concepts about the Asian societies which are shaping up to dominate the rest of this century:
Fingleton sees Asian societies as essentially authoritarian, and deplores their governments' distortions of what he sees as "free trade". The two main mechanisms of government control in East Asian societies (China, Taiwan, Korea, Japan) are, he says, selective enforcement and suppressed consumption.
Selective enforcement is a bit like R.D. Laing's concept of the Double Bind. Governments impose lots of laws and red tape on companies, but enforce them laxly and selectively, often to the detriment of foreign companies. These companies have to operate both corruptly (making bribes to the right people) and according to the letter of the law. Selective enforcement is how, for instance, South Korea ensures that less that 5% of cars sold in South Korea are foreign.
Suppressed consumption is particularly interesting to me because it's so counter-intuitive. We think of Asian societies -- and particularly Japan -- as hyper-consumerist. Not so, says Fingleton. In fact, the authorities in these countries don't want people to consume. They want them to save. Tiny houses, high prices, poor consumer value, and difficulty in getting consumer credit -- these are all deliberately engineered to stop people consuming, and get them saving instead. "The resulting torrential savings flows," says Fingleton, "are channelled via government-controlled banks into a super-fast pace of investment in key industries, particularly export industries." The West can't keep up with this centralised and dirigiste model.
If Fingleton has a secret agenda endorsing dirigisme (strong government control of industry) -- and the unfailing efficacy of dirigisme is certainly the lesson I'd draw from these conclusions -- then he's hiding it cannily beneath a language which speaks of this model (spread, apparently, through the region by Japanese imperialism in the mid-20th century, but rooted in Confucian mercantilism) as "disastrous" and "unfair" and "Orwellian" and "blackmail" and "the jaws of the dragon" (the title of his current book).
That's condemnation enough, I guess, to keep the "socialist" label off his back, and keep those lucrative Washington think tank invitations flowing in. Somewhere, Taid O'Conroy is raising a glass. Friday April 2nd 2010
Tinker(er)
1. At the moment I'm enjoying tinkering with the look of this website more than posting things. My visual-aesthetic sense is to the fore, rather than my opinionated-provocateur side. Currently, the design here has a "didactic" look, with Post-It pastel shades and an Opel / Pelikan / Yellowbook / William Morris thing going on in the Zuihitsu section. Some of my happiest hours have been spent knocking off other people's graphic design ideas, and I think this didactic, stationery closet look is rather obviously in thrall to what Zak Kyes has done at the Bedford Press. This magpie-ism would make me a bad graphic designer if I actually were one, but it's okay for a dilettante, I think.
2. It's marginally more difficult "posting" here than it was on Click Opera -- just because of all the HTML coding -- and of course all posts are met by a deafening silence, which I'm perversely enjoying. I'm also enjoying the hands-on HTML, which is very retro but also very tweakable, and has the same appeal for me as, say, old cassette tapes.
3. This is me yesterday / earlier today. The hair is "assisted" with clip-on extensions, to give me that Prince / poodle look. You may notice that I'm growing a moustache. I started it to match David Woodard's moustache, and provide some symmetry in the Exploding Beowulf presentation. I've never had a proper moustache. They go spiky on me, and soon it's like having a hedgehog on your top lip. I'm also getting a proper lens put into the huge glasses you can see here, so they may soon replace the Ray Ban-like pair I found at a flea market in Athens last year. Does this mark a belated shift to the Terry look on my part? (Don't answer that, by the way. I mean, you can't.)
4. I don't for a moment believe I'll win the £30,000 Scottish literary prize I'm currently shortlisted for, but it's a bit like buying a lottery ticket; you can't help dreaming. It's a slightly awkward sum; not enough to buy a house. For some reason I started looking at properties in the Shetland Islands, fantasising that I'd buy a place there if I won. Anything nice is at least £100,000. But the kind of places I find appealing are more like agricultural buildings and sheds than houses. Maybe I could get a windowless shed for £30,000? Or a plastic greenhouse?
5. Why aren't these kinds of places -- austere and tiny and cute, ideal bolt-holes for writers -- ever listed by estate agents? If I were a businessperson I'd identify this as a lucrative gap in the market. There's a need for properties in the £5000 to £50,000 range the same way there was a need, before Ryanair and the rest came along, for the twenty quid air fare. Budget housing with an interesting form factor and lots of quirk. Some entrepreneur needs to get on it. Thursday April 1st 2010
A prescient Japanoclast
Watching this documentary on Brian Eno yesterday...
...I was intrigued to see, in a pan along Eno's bookshelf, a section labeled Future Theory, containing a book entitled The Menace of Japan:
Thanks to the miracle of "virtual reality" (well, of archive.org combined with DJView), I was able to "take this book down from Eno's shelf" and leaf through it.
Now, Japan elicits mixed responses from Westerners. A Twitter feed I follow is called, for instance, Good and Bad Japan. For every one bad point it finds, Good and Bad Japan finds about eight good points. That pretty much matches my own feelings when I'm in Japan.
The Menace of Japan was written by an Irish "diplomat" called Taid O'Conroy, and issued by Hurst and Blackett in late 1933 on the same day as the first English translation of Hitler's Mein Kampf. Eno may have placed it on his Future Theory shelf because it's thought of now as a blend of prescience and paranoia.
Like many Japan hands, O'Conroy comes to the archipelago with high, hazy expectations and scented stereotypes: "Lotus Flowers and Cherry Blossoms. A gentle energetic people, simple, painstaking, yet terribly efficient. Exquisite women; Arabian Night Stories; dwarfed trees; delicate pictures of flowers and insects that seemed to live. A modern fairyland. That was what I expected. I had already met Japanese in the West. I had seen the women treated almost like queens by their menfolk. I had realised their delightful manners."
Fifteen years later he is writing the final chapter of The Menace of Japan. It's entitled "J'accuse!" Now, O'Conroy tells us, he realises he's been conned. Japan is an imperial power set on war. That's the prescient, future-savvy part of his insight. The paranoid part is that he tells us that the behaviour of Japanese men towards their women in the West has all been a gigantic charade, a propaganda display executed to impress the Europeans:
O'Conroy is a fairly typical Japanoclast: married to a Japanese woman, he wants to exaggerate into absurdity the difference between Japanese women and Japanese men. The former are "exquisite", the latter "corrupt, bestial, ruthless, cruel, lustful and treacherous".
As Peter O'Connor of the Foreign Correspondents' Club of Japan notes, O'Conroy knew a thing or two about charade; he was soon unveiled as "a well-known impostor". His claims that he and his Japanese wife Kiku were being poisoned by Japanese secret societies in revenge for his book's revelations about Japan turned out to be rubbish: his wife Kiku (not the aristocrat he claimed, but a waitress he'd met after jumping ship) was discovered to be in good health, running a teahouse in Kanda. O'Conroy died in 1935 of cirrhosis of the liver.
As for the "future theory" part of the book, Peter O'Connor sees The Menace of Japan as forecasting not just the behaviour of Japan in World War II, but also the truth-twisting tone in the West during the run-up to the Iraq war. Our capacity to demonise is probably as much a part of our future as our past, unfortunately. Tuesday March 30th 2010
Exploding Beowulf (complete video documentation)
At 9pm on Saturday 27th March 2010 at Berlin's Volksbuehne Roter Salon Momus and David Woodard presented a one-off multimedia theatre piece entitled "Exploding Beowulf". Here's the whole production (all eight videos chained together in a playlist):
Monday March 29th 2010
What presence?
This is a still from a little video essay someone's made about Bernard Szajner, inventor of the laser harp (and a Howard Devoto collaborator in the early 1980s):
The essay focuses on Jean-Michel Jarre's theft of Szajner's invention, which is interesting (I also portrayed Jarre as a bit of a villain in my song "Jarre in Hicksville"), but I'm more inclined to focus on the statement Szajner makes in the course of the interview that "of course, all the "philosophical" aspects (the extension of the body) are lost on these young people" (he means people making similar laser devices now).
Szajner may be being a bit harsh there. I think young people are very aware of the body, gesture, aura and presence and all those Benjaminian features of the non-reproduced work of art, especially in live performance. The internet has made everyone more aware than ever of the difference between what's canned and what's live, what's embodied and what's not, what's digital and what's happening right in front of you, what can be cloned infinitely and what will never be repeated.
There are grey areas, of course. Last weekend I saw a Felix Kubin performance called Echohaus, in which Kubin placed musicians in rooms throughout a building and sat downstairs processing their signals through a laptop connected to speakers, while the audience wandered up and down stairs, from room to room. Given this choice between live, embodied, present and separate musicians and the central mix, digital-ready and disembodied, I found myself preferring the former by far. The sounds at the acoustic stage were so much quieter and subtler than their final mixed and amplified electronic versions. It was a comparison Kubin himself wasn't able to make; as he told me later, being stuck behind his laptop he'd never experienced the other half of the installation, the wandering part where one "remixed" the sounds by moving one's body around the building.
If you're in Berlin tonight, come and witness a unique one-off live performance at the Roter Salon, as David Woodard and I "explode" a mechanically-reproduced artefact (the song Beowulf (I Am Deformed)) into an hour-long theatre piece. There are no plans for it ever to be reproduced, and it would make no sense without the presence of our bodies -- and yours -- in a room together. Saturday March 27th 2010
Stop laughing, I am Beowulf
Here's a video made by someone called Jordanime to amuse his girlfriend Mazie:
Since I'm in Beowulf mode just now, rehearsing for tomorrow's theatre presentation Exploding Beowulf (look left for details), it strikes me that the tale recounted in the video is essentially the Beowulf story. The "giant dogs with tea leaves for ears" that menace the world by shooting lasers from their eyes are obviously a latterday incarnation of the monster Grendel, and I, Momus, am Beowulf here, ridding the world of them.
True, Beowulf didn't hand the US presidency over to Morrissey and Billy Mackenzie, but that's a minor quibble, and I think that, in similar circumstances, he might well have done. I think he would've been a big fan of November Spawned a Monster, and whippets. Friday March 25th 2010
Exploding rehearsals ongoing
Munich-based conductor David Woodard has arrived in Berlin (disguised, it seems, as Robert Redford) to perform Exploding Beowulf with me on Saturday evening at the Volksbuehne Roter Salon. Here we are at Kunstraum Kreuzberg today. Thursday March 25th


Earlier Zuihitsu scrawlings (zuihitsu means something like "random fragmentary brush-jottings" in Japanese) are here.