On the evening of Saturday June 12th 2010, Momus will perform a popular music concert (featuring many new songs from his upcoming Hypnoprism album) at Bar Strelka in Moscow. Attached to the new media, design and architecture school Strelka Institute, Bar Strelka is situated on Bolotny Island, in the former Red October chocolate factory, just opposite the Kremlin. Momus' last (and first) appearance in Moscow, in 2004, was a sell-out.




On Wednesday June 30th Momus will perform a pop concert at a party at Schirn Kunsthalle in Frankfurt, Germany. On Saturday July 10th Momus will perform another concert in Kassel, Germany, at the Kunsthalle Fridericianum, at the invitation of artist Mark Divo, who has a D.I.V.O. Institute show there.




Momus spent May taking a break from the book he's writing about Japan to write and record his 2010 album, Hypnoprism, due to be released in the US and Europe (American Patchwork and Analogue Baroque) on September 27th 2010. The album will feature on its cover this painting by New York-based Japanese artist Misaki Kawai.

Where once Momus albums would have attempted to do the work of novels -- carry storylines forward, present complicated character lists, and so on -- there's a kind of playing-to-strengths effect this time: Hypnoprism appears to be doing what pop records do best, which is present pop songs without cluttering them with the kind of literary machinery proper to books. If there is some cross-media action going on this time, it's in the direction of music television.

Past records -- 2004's Ocky Milk, for example -- were previewed for blog readers in mp3 form. This time, Momus made the decision to make a YouTube video for each track as was recorded. In fact the video-making almost became an extra tier of songwriting: these are "videosongs". This of course changes the nature of the supposedly-final product, the album, which becomes a sort of hard copy, a document issued at the end of the process.

The videos -- which can be seen in Zuihitsu section across the page, or on the Momus YouTube channel -- contain some quick and dirty editing, and are usually sculpted down to their shortest possible forms; when the Hypnoprism album comes out, new mixes of the songs will appear, in some cases containing unheard lyrics and different structures.


Momus is currently writing Far-Flung Japan, a book about Japan for Sternberg's Solution series.
The story is simple. Twelve idiots -- possibly conspirators, possibly visionaries, possibly liars, or possibly the most privileged and valuable future-witnesses the world has ever seen -- have found a way to the future of Japan. It's a messy business, involving crawling into a calving cow, and, after the initial twelve idiotic visits, nobody has been able to reproduce the feat. A commission of enquiry is established, and the idiots duly give accounts of their voyages to a panel of Japan experts who try -- not without exasperation -- to match the extraordinarily idiotic things they're hearing with known facts, likely scenarios and extrapolated outcomes.

The book will be funny but also serious. Amongst other things, it'll make a case for the rehabilitation of the idea of the "far". We live in a time when difference and distance have been eroded and eradicated by globalisation, the internet and cheap jet travel. "Far-flung Japan" will try to restore a sense of wonder -- along with a plethora of imagination-triggering inaccuracies, clouds of interference and globs of barn ectoplasm -- by taking the reader on a trip not just through space but time.

Momus is also currently curating "Aftergold", a major exhibition of Japanese art to be held in the UK Midlands in the run-up to the 2012 Olympic Games.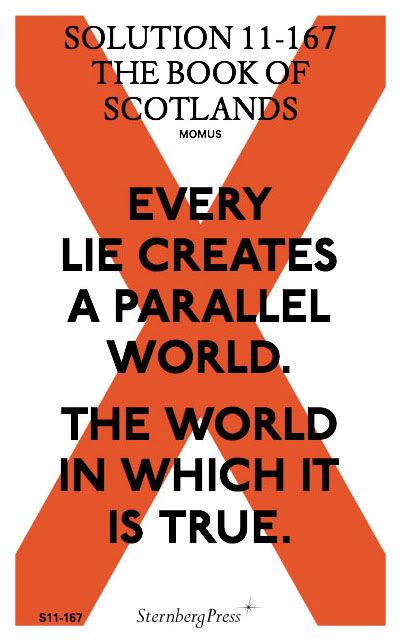 Published by Sternberg Press in late 2009, The Book of Scotlands is a series of delirious speculations about the future of Momus' motherland. Commissioned by German editor Ingo Niermann and modelled on his book Umbauland, The Book of Scotlands was well-received in Scotland.
"I don't think I am over-stating it," wrote Gerry Hassan, "to say that The Book of Scotlands will be read and reread, studied and assessed centuries from now for what it says about early 21st century Scotland". And Pat Kane in the Scottish Review of Books said: "The Book of Scotlands is a considerate, deeply generous take on the life of this country and its possible futures."
The Book of Scotlands can be ordered online via Sternberg's website (click "order") or via Amazon.de, or Amazon UK or Amazon US,
The Book of Scotlands was one of sixteen titles shortlisted for the Scottish Arts Council's SMIT Book Awards 2010.
The Book of Jokes is Momus' first novel. Commissioned originally by french publisher La Volte, it was published first in English in September 2009, followed in October by the french edition Le Livre des Blagues, and will appear in German in the autumn of 2010 through Blumenbar.
"Most of the book's story lines orbit around taboos, including scatology, pedophilia, bestiality and talking, chess-playing penises," said the Los Angeles Times. "One of the book's central conflicts poses the question of whether two men can be each others' uncles, which can be answered only with some of the most lurid, labyrinthine incest in literature."
"The Book of Jokes is not a collection of punchlines or tension-building schemes," wrote Adam Novy in Dossier Journal, "it's a flexible and sensitive solution to the problem of how to invigorate conventions like the novel using overlooked materials. Momus is a slyly articulate stylist with a lovely flair for syntax and the lexical."
The Book of Jokes can be ordered in English via Amazon, and in French via FNAC.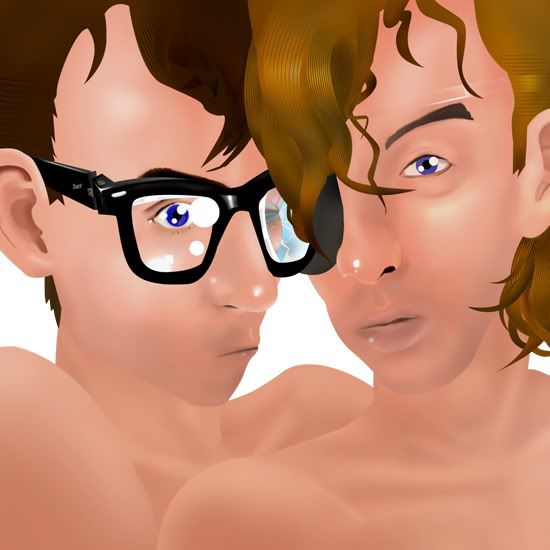 The most recent album from Momus is Joemus, released in November 2008.
Culturedeluxe called it "the best album from Momus in years, a brilliant, hallucinatory Nintendo arcade gloop of analogue pop and retro lounge as performed by two Space Invaders posing as human beings". "A great precis of where Momus's current musical fascinations lie", wrote Prefix magazine.
A collaboration with Berlin-based Scot Joe Howe, Joemus is available in the UK and Europe from Cherry Red and in the US from Darla. Other Momus releases are listed on this page. Six albums Momus released on the Creation label are available as free downloads from ubu.com.
Pretty much from its inception, Momus has used the web to communicate. From 1995 to 2003 the Momus website entertained visitors with frequently-updated content: monthly essays, daily photos, accounts of Momus albums, some portraits of Momus, collections of podcasts, a CV, audio clips and tour diaries. Then, from January 2004 until February 2010, a LiveJournal blog called Click Opera took over, adding Web 2.0 functionality and a lively comments section.
In February 2010, for a series of reasons outlined here and here and in this radio interview, Momus completed the Click Opera project and came back to iMomus.com, bringing a touch of blog influence back to the old Web 1.0 site in the form of a new yellow notebook column called Zuihitsu.
Meanwhile, news and status tweets -- for those who like that sort of thing -- from Momusworld can be found at wolon, the Twitter feed of Momus' faithful personal digital assistant, Maria Wolonski.
momasu@gmail.com


Is an album more than a YouTube playlist, or less?

The new Momus album, Hypnoprism, will come out as a CD and a series of digital downloads on September 27th, 2010, with a sleeve featuring a painting by Misaki Kawai (see left, below). Obviously, as an artist who barely scrapes a living, I hope you'll buy the music when it comes out. At the very least, I hope you'll come to a concert if I give one in your area. But this album proposes itself as something inspired by YouTube -- the "hypnoprism" of the title, in a sense. As such, it's made a quick and open circle from YouTube inspiration to new YouTube content. Now there's a YouTube playlist of the tracks in the sequence (though not the exact mixes) that'll appear on the finished album:



So the question presents itself: is an album more than a YouTube playlist, when you've made a video for every song? Has Google (the owner of YouTube) just released my new album for free? Have I added value to one of the world's richest companies rather than to my own bank account? Am I an idiot? And what's in it for the buyer of my album? Am I relying on his or her philanthropy? There's better sound, some mixes tweaked and reworked by John Talaga, there's a painting by Misaki Kawai and some other still artwork, but no videos. There's a piece of plastic that fits into a machine you may or may not still have (my own CD player is broken at the moment, so I tend to seek music out online).

I don't know the answer to these questions. I think, for me, the album survives as a metaphor, and works just as well as a YouTube playlist you get for free (that is, as part of your DSL package) as it does as digital data engraved on a piece of plastic. In this case the song sequence in question wouldn't have existed if my enthusiasm for pop music hadn't been rekindled by watching YouTube videos, so I don't feel bad about "giving my work away". And I do believe some of you will buy the CD or download the tracks from the computer company named after a piece of fruit, and come to see me live when you can, and we'll all have better lives as a result. It's all still worth doing, that much I know.

Absolute confidence

A couple of years ago I co-wrote a song with Kumi Okamoto of Crazy Curl / The Konki Duet / Kumisolo fame. She made the music, I made the lyrics, and it came out last year in a poppy arrangement (assisted and produced by Olivier Lamm) on her excellent album My Love For You Is Like A Cheap Pop Song. Now, for the Hypnoprism album, I've made my own version:



The images are, of course, from Philippe Garrel's wonderful 1972 film La Cicatrice Interieure, featuring Nico.

June 4th 2010

Is there sex in marriage?

I suppose this is what you'd call -- if Hypnoprism were a hip hop album -- a skit:



Thursday June 3rd 2010

Data tragedy

Kraftwerk are said to have invented "the sentimental computer", but these days we all have one sitting on our desk. So entangled have our personal lives become with the machines that when they crash, we do too.



Tuesday June 1st 2010

Charmed, I'm sure!

This is a little number I tossed off in the Bahamas, as Noel Coward used to say. It's based on samples of a 1938 Mantovani 78 of a song called Jealousy which I've never heard sung. I put my own song over the melody, based on a maxim of Jenny Holzer's: "lack of charisma can be fatal".



This one was easy; it always seems like the effortless songs are the most effective. Monday May 31st 2010

Slither down the greasy pipe...

This one -- the tale of a murderer and the victim he loves -- was a lot of trouble, and I'm still not entirely convinced by it. But here's Monday:



It's rather reminiscent of Hairstyle of the Devil, as well as making references to Bowie and Eno songs.

Sunday May 30th 2010

Oh what fun it is to be an evil genius!

Songs are rushing out of me this May, and weirdly enough they seem to be some of the best of my career. I've been avoiding pop music for the last couple of years, but this month there's been a sudden "return of the repressed", and it seems to be all the stronger for the restraint. Here's the latest, Evil Genius:



Friday May 28th 2010

There's a scent of candlewax and pine cones...

I'm not sure if Bryan Ferry would really sing these lyrics, but we can always dream.



Wednesday May 26th 2010

Visiting the bamboo bubble

Bubble Music is a hauntological visitation -- rather than simply a visit -- to the Tokyo of the late-Showa bubble. The references are so obvious I'm sure I don't need to spell them out!



Alright, I will spell them out: what fascinates me here is clearly the topography mapped out by the Bamboo Music created, particularly, by Sylvian and Sakamoto in about 1984. One of the oddities of this style is that it sounds, to Japanese ears, rather Chinese. There are Chinese drums, a Mick Karn-like bass, plinky-plonky pentatonic melodies made of pure plastic, and lush orchestral interludes scored with Sakamoto's penchant for the french colourists. I've added a bit of theremin just to underscore the ghostliness of it all (it's a quarter of a century ago, after all).

The images come from Elizabeth Lennard's 1984 documentary portrait of Sakamoto, Tokyo Melody, which I can't recommend highly enough. The whole thing is on YouTube, luckily. Monday May 24th 2010

Being disorderly in an orderly fashion

The latest song is a cover -- and my own translation into English -- of Mylene Farmer's 1984 hit Maman A Tort, written by Laurent Boutonnat and Jerome Dahan. I've loved this song since first hearing it in the mid-80s, when Mylene Farmer became my favourite synthpop diva. It tells the tale of a rebellious little girl who's fallen in love with a hospital nurse, but I've used the word "orderly". A medical orderly is an unskilled nurse, but the word also refers to the strict sequence in which the song's narrator issues the pieces of information which add up to her story of romantically defiant disobedience. Never has disorder been so orderly.



Maman A Tort came out in 1984, and established Mylene immediately as a star. Five years later -- by now even more massive in francophonia thanks to transgressive hits like the gender-bending Sans Contrefacon -- she gave what I think is the definitive reading of the song in her live show, accompanied by a pantomime nursemaid. Saturday May 22nd 2010

They call me Mr Consistency

Here's the next song in the sequence, and it's called Mr Consistency. I suppose it's about our peculiar need to make everything "either one thing or another", and the tendency of things to become untrue the moment they're spoken, hence inviting some kind of antithesis-synthesis reaction. But really it's all about being a pop song:



Thursday May 20th 2010

A virgin writes...

This is a song I wrote when I was 16, and living in Edinburgh in a little room at the top of the family house at 9 Drummond Place. It was what Al Stewart called the year of the cat. I was a shy virgin, and would stay one for another five years. The song is my tender-minded idea of what romantic relationships must be like. Actually, I still think they're a bit like this.



Tuesday May 18th 2010

I stared at Sun Ra

Pumping more new material than the Iceland volcano, I now offer you Strawberry Hill. The video features Sun Ra, but the solo on the track is by Joe Howe from Ben Butler and Mousepad.



Check out Joe's amazing Hosono cover version here.

Monday May 17th 2010

Adoration

This is my acoustic cover of the great lost Josef K song. Adoration was the spectacular jangly noise epic the Edinburgh band used to close their live shows with -- you can hear it on the Crazy To Exist Live album, but the band never recorded it. Paul Haig went on to record a very different version for his debut solo album, Rhythm of Life.



There are so many harmonies and echoes in the song, and in the video. First of all, it's a song about idolatry, and I'm very idolatrous of people who are, themselves, idolatrous. The whole of culture, in fact, could be seen as a series of quotations of quotations by people smitten by the work of other people. Here I'm quoting the excellent video someone called Locked Pig has made for Josef K's existentialist crooner number It's Kinda Funny...



Locked Pig quotes the Orson Welles film of Kafka's The Trial, so I'm quoting his (her?) quotation of that alongside another short film which quotes it, Marek Romanek's video for David Bowie's Jump They Say. I think it's no exaggeration to say that David Bowie was the idol for those of us who turned 20 in 1980. At that time, my idols were Paul Haig, Franz Kafka, David Bowie. So Bowie's the perfect subject of adoration for my cover of the Josef K song, especially since, here -- like me, in a sense -- he's playing Josef K. Sunday May 16th 2010

The second video single: Deliverance

You'll be sorry when I'm gone!



In other news, check out the new edition of The Wire. May 14th 2010

The new video single from Momus: Dave Death Ruins Everything

I haven't recorded any new material since 2008, when I made the Joemus album in collaboration with Joe Howe, but I'm happy to say that I'm now working on the next Momus studio album. To give you a taster, here's a video single of the first finished track, which is called Death Ruins Everything.



There's no title for the album yet, but there's been talk of making a collaboration on some tracks with the Parisian musician Hypo, in which case the title will be Hypoprism. There's obviously a wink there to Holger Hiller's 1986 Japanese release Hyperprism, as well as to Edgar Varese, who first used the title in 1921.

For anyone British who wants to make the song topical, you have my permission to call it Dave Ruins Everything. Tuesday May 11th 2010

Biography of the song Oben im Eck by Holger Hiller

Oben im Eck, from Holger Hiller's 1986 album (released in Japan under the title Hyperprism and in the UK as Oben im Eck), is an endlessly mysterious song for me, and one I've found myself coming back to time and again for inspiration. Here it is:



Ever since tracking Hiller down in Berlin a couple of years ago, I've planned to grill him at length about how this song came about, and get him to break down its various components for me: the four people involved (Holger, Billy Mackenzie, Izumi "Mimi" Kobayashi and Wolfgang Muller), the technology, the references, where it was made, and how it was received, then and since.



So on Saturday May 8th Holger and I sat down for an hour or so in his kitchen in Mitte and just talked about this one song. For such a tightly-focused subject, the song radiated out into a surprisingly wide variety of places, from the Emulator II sampling keyboard to the non-tempered scales of ancient Greece, from the neuromantic Tokyo of 1985 to the neo-romantic poetry of Stefan George. Somehow, despite all this explanation, the song's mystery remains intact, and even deepens.



In part 3 we talk about the neo-romantic German poet Stefan George, then go through the lyrics to the song, translating them. There was a problem with one of the video files, which got too large to be transferred from camera to computer, so the audio during some of this section is telephone-quality.



After this Holger and I talked about Billy Mackenzie and Izumi "Mimi" Kobayashi: since this section is also "telephone style", I've done it as an mp3. Finally, in the fourth part of our conversation, Holger recalls what it was like to spend several months in Japan in 1984, living in Roppongi, cutting a record deal with the Wave label, trend-spotting, and hanging out with Hajime Tachibana of The Plastics. Sunday May 9th 2010



To round things off -- and to give you an impression of the much more aggressive sound of some of the other tracks on the Hyperprism / Oben im Eck album -- here's a video someone's made (with images from my Hokkaido trip in 2005) to accompany the track (also featuring Billy Mackenzie) Whippets:



Sunday May 9th 2010

Earlier Zuihitsu scrawlings (zuihitsu means something like "random fragmentary brush-jottings" in Japanese) are here.